So, I've been seeing a few pictures across the net of what I call the Cowl Neck Hi-Lo Poncho. Here are a few pics: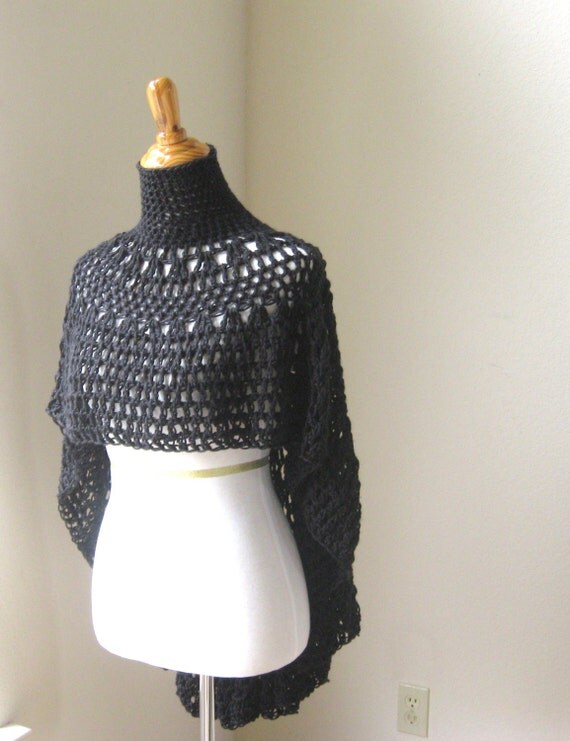 Naturally, I want to make one for myself, but there is one problem: the people who have been posting these pictures are actually quite protective of the pattern. They are not even selling it. You can only buy the final product. I can understand the logic, if these products are providing them with income, so I can't hate on the need to protect your income. But that doesn't stop me from wanting to make something similar for myself.
So last year, when I first saw the projects by Mariana Vail, I tried to recreate this project by starting wit the cowl portion, then adding on the poncho. Well, I ended up with a project that was only
frog
-worthy, definitely not worthy of actual wearing. It was like a crazy looking version of this poncho by BobWilson:
Since my version came out so horrendously (sorry, I will NOT be posting pictures of that mess) I gave up on trying to recreate Mariana Vail's beautiful products.
Then, a few weeks ago, a member of the Facebook group
Crochet Addict
posted a picture similar to Mariana Vail's products, at different angles, and it suddenly hit me: this is basically a large circle that, at a certain point, you skip several stitches in a row, but continue expanding the rounds. After so many rounds, you crochet around the opening created by skipping stitches, then make your cowl from there, but crocheting in a new round and decreasing stitches with each round.
That all probably sounds confusing, because basically, it kinda is. But the point is, I've started a freestyle project of my own, which is basically my attempt to create my own version of the cowl neck hi-lo poncho. Here is my progress so far:
First, I started by essentially making a crochet doily in a grey color.
1. Crochet Circle or Doily
Next, I just changed colors to add some "flavor" and continued adding rows as well.
2. Doily is getting larger
I am currently continuing to add rows, so the project is only at the big circle phase, as seen below.
3. And even bigger.
As you can see above, some of the rows are more openly worked than others, in a filet style. I did this to make things less boring and redundant (I absolutely ABHOR working on redundant projects that involve a lot of "repeat this" and "repeat that" over and over).
So basically, once this is big enough to drape over my shoulders and hang down my back, I'm going to create the cowl neck portion. Again, this hard to explain, so just stay tuned for pictures that will do a better job.