Since I've become re-obsessed with crocheting, I've also become obsessed with
pinning pics of my favorite crochet inspirations
(under my Pinterest alias,
AquaButterflyy
. So, I've decided to share a few of them here on my blog.
Roses Jumper by Simone Francis
I don't know where I originally saw this, but it was probably sent to me by Pinterest (they now have a "picked for you" function based on your previous posts). But once I saw it, I had to add it to my inspiration board. It's very simplistic, but still quite pretty. And I love the way the roses are incorporated into the design of the jumper.
The pattern was published in
Inside Crochet, Issue 43, July 2013
, so it's not available on the internet, though
view-able on Ravelry
. But that's why I love to save these types of pics as my "inspiration" in case I'm ever in a freestyle crochet mood and want something to get my creativity flowing.
Asymmetric Vest by Crochet Lab on Etsy
I like the filet crochet elements incorporated into this vest. Also, the buttons appear to be handmade, which is a nice touch. This particular vest has already sold, but you can visit
Crochet Lab's Etsy shop
intermittently, to see if it gets reposted. Or you can just look at some of their other products for fun!
Crochet/Knit Blouse Top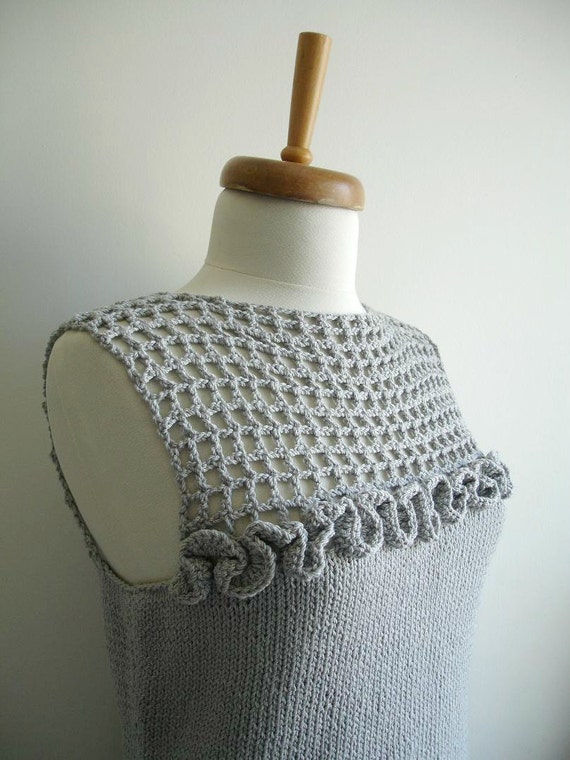 Speaking of Crochet Lab, I found this top they made and thought it to be soooo adorable! It's a combo of knit and crochet, which is slightly annoying for me, since I don't really enjoy knitting (even though I can do it in its basic form). But this is my inspiration section, so I am definitely saving this pic to my
inspiration board on Pinterest
. If I ever create something inspired by this top, I will definitely share that on this blog.
Until then, see you later!